Digital Competencies for Nurses: Tools for Responding to Spiritual Care Needs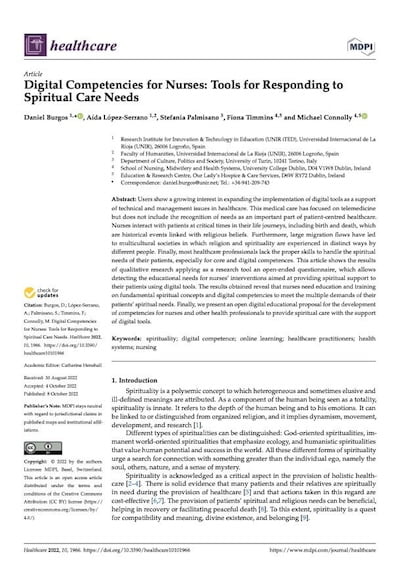 Users show a growing interest in expanding the implementation of digital tools as a support of technical and management issues in healthcare. This medical care has focused on telemedicine but does not include the recognition of needs as an important part of patient-centred healthcare. Nurses interact with patients at critical times in their life journeys, including birth and death, which are historical events linked with religious beliefs. Furthermore, large migration flows have led to multicultural societies in which religion and spirituality are experienced in distinct ways by different people. Finally, most healthcare professionals lack the proper skills to handle the spiritual needs of their patients, especially for core and digital competences. This article shows the results of qualitative research applying as a research tool an open-ended questionnaire, which allows detecting the educational needs for nurses' interventions aimed at providing spiritual support to their patients using digital tools. The results obtained reveal that nurses need education and training on fundamental spiritual concepts and digital competencies to meet the multiple demands of their patients' spiritual needs. Finally, we present an open digital educational proposal for the development of competencies for nurses and other health professionals to provide spiritual care with the support of digital tools.
Burgos, D., López-Serrano, A., Palmisano, S., Timmins, F., & Connolly, M. (2022). Digital Competencies for Nurses: Tools for Responding to Spiritual Care Needs.
Healthcare
,
10
(10), 1966.
https://doi.org/10.3390/healthcare10101966